Studios and Equipment
Fernando Lopes Movie Theatre (125 seats)
Fernando Lopes movie theater is located on the Campus of Lusófona University (Lisbon, Portugal). The movie theater is exclusively dedicated to cinematographic exhibition and for eminently academic use and activities of the Film and Media Arts Department. Aware of the need to promote interaction and synergies between academia and society, the Department established a cooperation protocol with Leopardo Filmes for exclusive events open to the general public, as well as such as the regular program of thematic sessions aimed at an academic audience but also film fans. The cinema is equipped with the most modern DCP technology for digital cinema projection and 7.1 audio technology, our institution takes another significant step in consolidating its educational offer in the areas of cinema and media arts, asserting itself as a reference institution in this field in Portugal and in the Europe.
Film Studio (85m2)
The University film studio is customised for film production. The film studio can be used for building sets for movies, short films and commercials. The ceiling of the studio is equipped with lighting fixtures and features a black background.
Aside the studio there's a dressing and make up room, and the building next to it features the equipment warehouse, the television studio and the motion capture studio. Together they for a whole complex for production.
The studio can also be used for larger official receptions, seminars and training events. It includes a stand with 35 seats.
The students access to the studio is managed by the online platform Reshape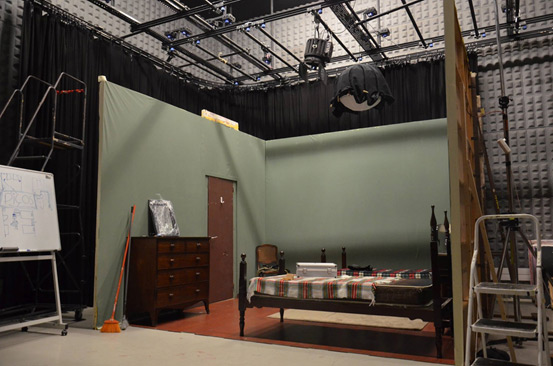 ---
Television Studio (96m2)
The Television studio can be used to make professional multi-camera recordings.
Studio is equipped with four HD Sony PMW 350L HD cameras with the Sony HDC 1400U fibber optical camera channel and the Sony HDCU 1500U control panel.
Cameras have Fujinon ZA 12x4.5 BERD and Fujinon HA 18x7.6 BERD-S lenses with zoom and focus servo-controls, Sony HDVF C730 LCD monitors, Vinten HD250 and Vinten Heavy Duty tripods.It also features the possibility of adding a fifth camera.
Studio lighting is controlled by a Strand Lighting GSX console. The standard lighting kit consist in 8 Softlight 1Kw, 1 Softlight 2Kw, 9 Fresnel 2Kw, 4 Fresnel 2Kw, 2 Spotlight 650w, 3 Par 64, 2 Cyclorama 5Kw. Any lighting from the equipment warehouse can be added. It has black, grey and green backgrounds.
In Control Room Snell & Wilcox Kahuna 1ME/20HD allows working in high definition (1080i/50) and standard television (576i/25). Avid Airspeed allows digital recording and playback in 10bit 4.2.2 Avid DNxHD standard format. For external recording there's a Sony PDW 1500 recorder.
Video monitoring uses a Evertz 3000 DCP Multiview with 4 Sony 42"and 8 21" monitors. Studio Intercom consists of a Trilogy Gemini system. Audio control uses a Evertz 500 ADA/AUD distributer, a Soundcraft Spirit FX16 mixer and Genelec speakers.
The equipment warehouse has a large set o microphones available for usage in the studio. The television studio can also be used for larger official receptions, seminars and training events. It includes a stand with 40 seats. The students access to the studio is managed by the online platform Reshape
---
Sound Studios
The University Film and Arts Department features two sound studios. They are designed for film and television production. As a complement to the studios there is an audio lab designed for classes. The students access to this spaces is managed by the online platform Reshape. (reshape.ulusofona.pt)
Sound Studio 5.1 (room P.1.1)
This studio is designed for sound design in 5.1 Surround. It features 5 Genelec M040 speakers and a Genelec Subwoofer 7260 APM. The Apple MacPro workstation uses the Avid Protools HDX system with Avid Artist Control and Avid Artist Mix controllers. Hardware is an Avid HD I/O. The Waves Mercury Native Plug-in collection is also installed. The room has an Epson X21 video projector. The studio is plugged in two an Avid Isis Network system providing shared workspaces with the post-production centre.
Sound Studio B (room P.1.10)
This is a smaller studio, designed for recording and dubbing. It also allows for mixing in stereo. It's equipped with an Apple MacPro workstation and with an Avid Protools HDX controlled by an Avid Artist Control and an Avid Artist Mix. Hardware is Avid HD I/O. The Waves Mercury Native Plug-in collection is also installed.
Sound Lab (G.0.1)
This lab is designed for classes. It's equipped with 13 PC workstations and features Avid Protools and Max software's. The workstation is complemented by M-Audio interfaces and M-Audio Keyboards. It features a video projector Epson X11 and audio speakers.
---
Editing and Post Rooms
The editing and post rooms are equipped with an Apple MacPro workstation and audio speakers. The workstation is running Avid Media Composer, Final Cut Pro X, Adobe Studio, Blackmagic DaVinci Resolve, Blackmagic Fusion, Discreet Smoke and Open DCP software's.
Editing and Post Lab
The post lab is divided into two separate rooms, each with 10 workstations. One of the rooms features Apple IMac and the other Apple MacPro. The space is designed for classes and features two video projectors Epson X21 and audio speakers. The list of software's is Avid Media Composer, Final Cut Pro X, Adobe Studio, Avid Protools, Blacmagic DaVinci Resolve and Open DCP.
---
Colour Grading
The colour grading suite features an Apple MacPro and a Blackmagic Mini Monitor connected to a Sony Oled Trimaster EL monitor. The software running is Blackmagic DaVinci Resolve.
---
Animation Classrooms
Vasco Granja Lab
A classroom prepared for both theoretical and practical animation classes. Equipped with 8 sets for stopmotion animation, in its various aspects, plasticine, cutouts, sand, oil, puppets and scenarios built during the course. The software used is Dragon Stopmotion.
Animation Lab
Multipurpose room, prepared for theoretical classes and film projections, it is also a large stopmotion workshop space, equipped with the necessary tools where students construct the materials for their films: puppets, scenarios, etc.
It has a small separate space equipped with an animation set intended for graduation films of bachelor's and master's degrees.
When not being used for classes, the room is used by the students for their productions meetings, study, etc.
3D Animation Room
Room equipped with 20 PCs with Maya software for 3D animation and modeling, also with Mudbox for digital illustration.
2D Animation Room
Room Equipped with 20 macs and 20 cintiqs with TVPaint software for 2D animation.
---
Other Equipment
Film
2 Super16 Aaton XTR Cameras
2 zeiss prime PL lens sets
2 accessories sets
1 Super35 Arri BL4 camera
1 lens set
1 zoom Canon lens
1 zoom Zeiss lens
1 accessory set
Digital Cinema
1 4K Red One Mysterium Xtreme camera
1 2,5K BlackMagic Cinecamera
2 4K Sony F5 c/AXSM cameras
2 lenses set
2 accessories sets
1 HD Sony PVM 1741A monitor
1 HD Sony PVM 9L2 monitor
1 Astro WM 3007 T soundwave monitor
2 on-board Transvideo monitors
ENG Cameras
10 XDCAM Sony PDW F 335 cameras
3 DVCAM Sony DSR 130 cameras
3 DVCAM Sony DSR 370 cameras
3 DVCAM Sony DSR 390 cameras
7 SD Sony PVM 9" monitors
Handycam Cameras
8 Sony NEX EA50 cameras
4 MiniDV Panasonic AG-DVX 100 cameras
3 HDV Sony HVR Z1E cameras
5 HDV Sony HVR V1E cameras
6 HDV JVC GY HM600E cameras
1 HDV Canon XL 1H cameras
Sound – recording
2 SoundDevices 744T recorders
7 Fostex FR2 recorders
10 Zoom HN4 recorders
Sound – mixture
sound mixture Sony DMX P01
Sound – microphones
1 Schoeps cmc 6 U Mk4
1 Schoeps cmc 6 U Mk41
4 Sennheiser MHK 416 P48
3 RodeMic Pro
1 stereo microphone Sony ECM 999R
12 Beyerdynamic MCE 86 II
4 Sony ECM 44
7 levalier RF Sony UWP V1
1 levalier Shure PG 185
Sound – acessories
12 boom pole
14 headset
16 Rycote wind protections
Lightning
4 HMI 1200W iluminators
1 HMI 2500W iluminators
2 HMI 575W iluminators
2 HMI 200W iluminators
2 LED sets
1 Kinoflo 120 set
3 Kinoflo Divalite 400 set
1 Kinoflo Micro set
1 Cotelux set
1 Dedolight 150 iluminator
8 PAR 64 iluminators
6 PAR 56 iluminators
1 Fresnel 2x150W set
5 softlight 5KW set
8 softlight 1KW iluminators
2 softlight 2KW iluminators
3 Fresnel 1KWV iluminators
3 Fresnel 2KW iluminators
1 Fresnel 5KW iluminator
4 2K openface iluminator
3 Fresnel 650W iluminator
2 Fresnel 300W iluminators
6 3x800W openface sets
5 3x1000W openface sets
6 2x2000W openface sets
10 Fresnel 300, 650W + 800W openface sets
Digital Photography
20 APS Canon EOS 300/400 e 450
2 Full frame Canon EOS 5 Mk2/Mk3
Analog Photography
1 4x5/5x7/8x10 Sinar P2
3 35mm Nikon F80
5 35mm Canon EOS 300v
Photography – Lightning
4 flash Bowens Quadx 3000
1 Bowens Quadx 3000
2 flash Bowens 500
2 Kaiser 1000W
TV Studio
4 HD Sony PMW350L
1 video Snell & Wilcox Kahuna table
1 Strand Lighting GSX+
Intercom wireless Trilogy Gemini system
1 Avid Deko 1000
1 Soundcraft Spirit FX 16
4 LCD multidisplay Sony 42" monitors
8 LCD Sony 21" monitors
1 XDCAM HD Sony PDW HD 1500 recorders
8 softlight 1KW iluminators
1 soflight 2KW iluminator
9 Fresnel 1KW iluminator
4 Fresnel 2KW iluminators
2 spot 650W iluminators
3 PAR 64 iluminators
2 cyclorama 5KW iluminators
Editing and Post-Production
Servers
1 Avid Unity Media Server
1 Avid Lanshare
1 Avid Interplay
8 Editing and effects rooms with:
Apple MacPro
Avid Media Composer 7
Final Cut Pro X
Final Cut Pro 7
Adobe Premiere
Adobe AfterFX
Blackmagic DaVinci Resolve Lite
2 Formation rooms in editing and effects with:
10 Apple Imac
10 Avid Media Composer 7
Final Cut Pro X
Final Cut Pro 7
Adobe Premiere
Adobe AfterFX
Blackmagic DaVinci Resolve Lite
1 Audio post-production room
Recording and dub room.
Apple Imac
Protools 11
1 Avid Artist Mix
1 Avid Artist Transport
1 Focuswrite Saffire Pro 40
1 Audio Post-production formation room with:
10 PC stations
10 Protools 10
10 Max
1 Post-production audio room
Animation Studio
10 workstations
3D Studio Max
Maya
Adobe Creative Suite.
6 animation desks with:
Canon 450D.
Arri Dedolight illumination kit.