The Subversive Eye of João Pedro Rodrigues – Q&A with the Portuguese Filmmaker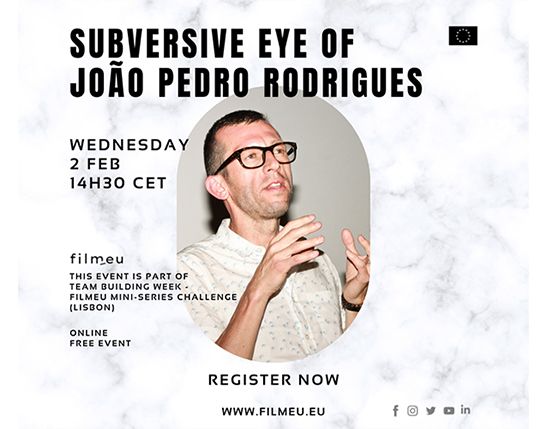 The Subversive Eye of João Pedro Rodrigues - Q&A with the Portuguese Filmmaker
2nd February 2022, 13h30 WET / 14h30 CET
Free online event
Next week, Lusófona University will host the first Team Building Week - MiniSeries Challenge 2022. An international group of teachers and students from 4 different countries and 4 different schools are meeting in person to initiate the process of developing the "FilmEU MiniSeries pilot".
On Wednesday (2nd of Feb) at 14h30 CET, we will have a very special guest for a live Q&A! Portuguese filmmaker João Pedro Rodrigues. He will be talking about "The Ornithologist" and his career, so join us!
The event is free of charge, but registration is needed:
https://videoconf-colibri.zoom.us/meeting/register/tZAsc-CgpzIrE9UVtSYjeP9TwnIpeIjYpBHg
Know more about João Pedro Rodrigues:
After taking a biology course, João Pedro Rodrigues attended the Escola Superior de Teatro e Cinema between 1985 and 1989. He worked on four films as an assistant director between 1989 and 1996 with some well-known names in Portuguese cinema, among them Teresa Villaverde. One of his first short films, "Parabéns!", from 1997, participated in the Venice Film Festival in the same year and received a special mention from the Jury. In 2000 João Pedro Rodrigues took his first feature film, "O Fantasma" (2000) to the Venice Film Festival in the Official Competition, and at the Belfort Film Festival, he received the Award for the best Foreign Feature Film. In 2005, he directed "Odete", a feature film that won a Special Mention from the Cinémas de Recherche in Cannes, in the Directors' Fortnight section.
Complete filmography here.
"O Ornitólogo" trailer
"Odete" trailer
"O Fantasma" trailer
"China China" trailer
"Morrer como um Homem" trailer
"A Última vez que vi Macau" trailer